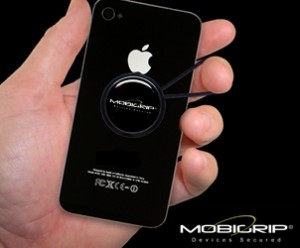 Some of you might remember when we reported on the Flygrip, which is a device that adheres to the back of the phone so you can hold it easily in between two fingers. The Mobigrip is like that, but the user only uses one finger.
As you can see in the picture, the user loops his or her finger around Mobigrip, and the disk part on the Mobigrip adheres to the phone. That is pretty much all there is to it, but this "mobile leash" can save your phone.
I don't really think there is anything more I can say about this product, other than the price. It is about $9.95 in many colors and you can find them here.