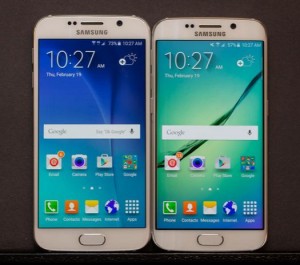 Okay, with Mobile World Congress (MWC) 2015 going on in Barcelona, there are a lot of announcements going on, and we have some confirmation on some, but not on others.
First of all, Samsung did announce the Galaxy S6 as well as the Galaxy S6 Edge. The Edge is the first phone with a curved touchscreen, but it is not as advanced as the Galaxy Note Edge. By the way, the Samsung Pay also got announced, which I suppose that you could compare to Apple Pay. I guess I should have seen it coming when Samsung bought LoopPay. Yeah, I probably should have reported on that. You can barely tell them apart on the image to the right here.
Another big development is the unveiling of the HTC One M9, and is the new version of the One M8. It was expected to arrive along with the S6, and it has a 20 Megapixel camera and all-metal design, and it is here to the left. Oh yes, we already covered the Vive VR headset, but we forgot to announced the HTC Grip, a GPS fitness band.
LG didn't have any smartphone to unveil, but it did unveil the LG Watch Urbane LTE that can run Web OS.
Lenovo also took the time to unveil the Ideapad Miix 300 tablet and the Lenovo Tab2 A10-70 tablet.
Huawei also had some interesting news as it unveiled an Android Wear watch, the first of its kind. The company also unveiled the Talkband B1, another type of Fitness Tracker, and a 7-inch tablet known is the MediaPad.
Haier was on deck at MWC 2015 to put its best foot forward with some connected watches for kids and senior citizens.
As you might have guessed, there is a lot to report here, and it still isn't over. If we do a follow-up, I'm sure there will be a lot more. So far, there isn't any word if Sony's Xperia Z4 phone will make an appearnce, but I have heard they have a tablet. We might cover that one.