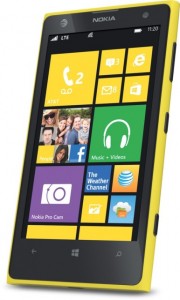 Of course, I need to report on the biggest tech news for the day, and today it came from everyone's favorite Finnish company, Nokia. Yes, the Lumia 1020 is a pretty big deal, and they had a special event in New York to announce it.
The biggest feature is that it can shoot pictures in 41 Megapixels. Yeah, what is with Windows 8 phones having really super advanced cameras? It is like a thing. Users can control focus, flash, ISO, shutter speed, white balance, and exposure.
Anyway, it has a 4.5 inch AMOLED display, a 1.5 GHz dual Snapdragon S4 processor with 2GB of RAM. What really makes it interesting is that even though the camera is quite advanced, the phone is not thicker than normal. Oh, it also comes with a leather wrist strip right out of the box.
Good enough? Go ahead and pre-order it on July 16th, and it will ship on July 26th. It is available in white, yellow, and black for $299.99 with a two-year contract.