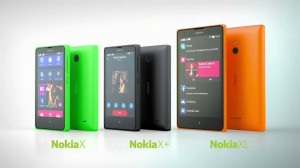 Well, I think we expected Samsung to announce the Galaxy S5 at Mobile World Congress (MWC) 2014, but Nokia pulled something a little out of left field with their announcement of the X, X+, and XL, which are Android, not Windows phones.
The X plans to have a 4-inch screen, 512MB of RAM, 4GB of storage via microSD slot, and 3 Megapixel camera. The X + has about the same specs but with 768 MB of RAM and an included 4GB microSD card. Then there is the XL, which has a 5 inch screen, 768MB of RAM, 4GB of storage, and 5 Megapixel rear/2 Megapixel front cameras with LED flash.
As I mentioned before, this isn't the usual Windows phones from the big N. Instead, they are Android, but apparently a special type. There won't be Google's apps or the Play store, so it will be a specialized Nokia store.
Speaking of stores, the X should arrive very soon in stores. The X+ will arrive sometime in Q2, along with the XL.