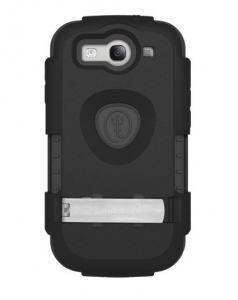 I'm going to be reviewing a lot of cases here in the next few weeks, and I was very glad to finally review one from Trident. Trident does make some of the best cases besides company that rhymes with "Slaughter-fox".
I have tested out the Kraken A.M.S. for the Samsung Galaxy S III. Let me say that it may not be able to withstand underwater, but I do know that it can stand up to vibration, dust, sand, and rain. It also has a shock-absorbing silicone to protect from drops. Another thing that the Kraken has is some dust filters over the microphone and speaker bays, plus some silicone plugs over the port openings.
Then it has some practical applications like a removable, media stand. It is a metal thing that can flip out so you can watch things in portrait mode, and it is removable. Speaking of things that are removable, there is also a belt clip/holster so you can snap on your phone. I kind of wish that the belt clip allowed the screen to face the other way, but that doesn't appear to be the case.
You should be able to purchase the Kraken A.M.S. for the Galaxy S III on the Trident site for $49.95.