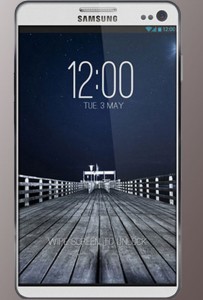 Okay, I think we all knew that this was happening, but Samsung unveiled the Galaxy S IV today. The Samsung head JK Shin introduced it with a huge amount of drama. I am in the process of listening to the Live blog, but here is what I know so far.
It weighs at 130 grams and is 7.9 mm thick, and it looks a lot like the Galaxy S III. This one has a 5.0 inch display HD super AMOLED. It has Bluetooth 4.0, Wi-Fi a/b/g/n/ac, 2GB DDR3 RAM, and it has a 2,600 mAh battery that I am told is removable. As for the camera, it has 13 Megapixels on the back and 2 Megapixels on the front.
Speaking of cameras, it has a Dual Camera feature. You can use the front and back cameras at the same time, so you can put the picture of the picture-taker in the photo. The picture-taker can be in the pic with a postage stamp frame or something else. Another camera feature is the Sound and Shot, which allows for matching an audio file with a photo. You can record audio before or after the picture is taken.
There is also a Drama Shot that can take 100 shots and make a collage of them all. Then there is the eraser function that can remove someone who walks in a shot. Then there is an Airview function which allows a preview of an image just by hovering a finger over a screen. Then there is a Story Album that can create photo albums based on location and time.
Then there is the S Tranlate feature for talking to someone in another language in French, German, English, Italian, Chinese, Spanish, Japanese, Korean, and Portguese. Also available is the S Voice Drive to pair a phone with Bluetooth so you can interact with the phone over the voice.
Also featured is a Samsung Hub, a magazine interface for finding and buying content. Then there is the Knox for keeping all things on the business safe like files, e-mails, and photos.
Then there is Group Play, which enables music to play music on eight devices at once, to create a 5.1 surround system on multiple phones. You can also do multi-player games on this feature.
Another feature is Chat on, which allows chat with three people, allowing use of the aforementioned Dual Camera.
There is also the Air Gesture which allows to scroll and navigate the phone without touching the phone. Then there is Smart Scroll which allows scrolling up and scrolling down by tilting the phone up and down. That isn't quite the eye-tracking, but there is Smart Pause that will pause when you look away from the screen.
Then, for you health nuts, there is the S Health. This is something that you have to track with the S band, and it tracks weight and heart rate.
Then there is accessory known as the S Cover, which will have a little window to see what is going on the phone. You can even answer the phone without flipping it open.
I don't have a price on this, but it will be available on Sprint and others.