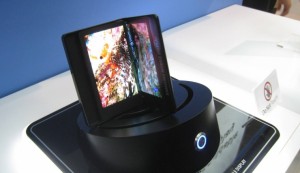 Okay, I am about to implement a new strategy that I want all of my readers to try. I know that we all laugh when some prediction passes us by without it occurring. If you don't believe me, then you weren't alive in 1984.
I want you to Bookmark this article so you can refer to it at the end of the year 2015. Why? Because I want to be around and say that I saw that Samsung was going to make bendable display smartphones. Not just any bendable display, but the kind that have a high resolution of 2560 x 1440 pixels, with a density of 550 pixels per inch.
I suppose that we are headed back into an age of clamshell or flip phones, aren't we? If so, then everything old will be new again, whether we like it or not. What comes around really does go around.
So go ahead and bookmark this and send yourself a reminder to check it in 2015. Just think of how the world will change by then. Perhaps we will have some bendable display phones, and not just from Samsung.