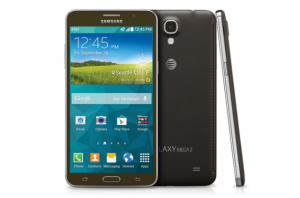 It has been over a year since we first reported on the Samsung Mega. The company has recently unveiled the Galaxy Mega 2, and AT&T will be the carrier.
The first Mega came in two screen sizes, but this one is a 6-inch screen with 720 x 1020 pixel resolution. Other features include an 8 Megapixel rear camera with a 4X zoom, with a 2,800 mAh battery.
The Mega 2 has some interesting features with multi-tasking, allowing one app in two windows at once or two apps beside each other. There is also a Private Mode that can lock up files under a password. These actually sound like some interesting features, and I wish I had them on my Galaxy S 5, honestly.
You should be able to purchase the Samsung Galaxy Mega 2 for $475, or $149.99 with a two-year contract.