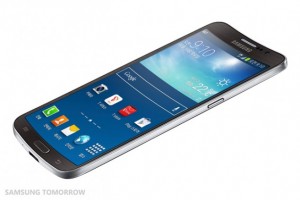 Some of you might remember yesterday when we discussed LG and their flexible screens, and here is another historical moment, this time for Samsung.
The GALAXY ROUND is the first curved display, and it has a 5.7 inch super AMOLED curved display. Now, I don't know why one might need a curved display, but there is some interesting features like Roll Effect to check on information when the home screen is off. You can apparently tilt the device and invoke the Gravity Effect for visual interaction.
I would love to try that out for myself, but I sort of want to try out the Galaxy Gear first. I believe that the ROUND is curved for one-handed operation, and you can apparently access multitasking features with a Multi-Window.
Other specs include 32 GB Memory + microSD of up to 64 GB, a camera of 13 Megapixels (back) an 2 Megapixels (front), Android 4.3, and many other things.
As far as I know, the ROUND will only be available in Korea in Luxury Brown.