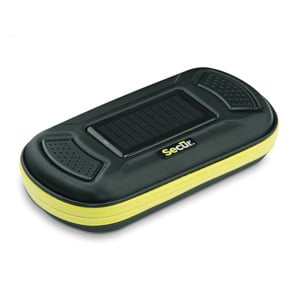 Well, as you can see, this is the fourth Secur product, and it is two products for today. I guess that I'll be reviewing these products as long as they will send them to me.
And that's fine by me, as I mentioned in reviews One, Two, and Three that Secur products have a way of being incredibly versatile. Take this Solar Media Player Plus (SP-5001), as it is a mobile battery that can charge via the sun.
Yes, there are a lot of mobile batteries, and some are solar. However, how many solar mobile batteries can you name that can zip open and stuff your mobile device in and protect from the rain? Yeah, it's great, and even though it doesn't use Bluetooth, you can use the included cables to get two great speakers out of it.
So, basically, if you want to go to the beach and listen to tunes on your smartphone at a louder level while it charges and is safe for the rain, this is your gadget. Now, it can be purchased on the Secur site here, but it doesn't seem to have a price just yet.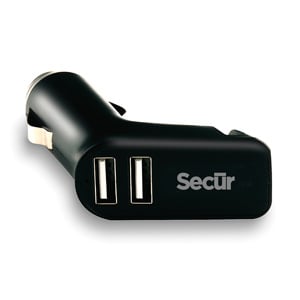 As for this next product, the Three-in-One Car Charger I am going to tackle as kind of an afterthought. I guess it is just its small size that makes me do that.
Again, it is incredibly versatile, as it can offer two USB outlets with very fast technology. Then, if you get in a real jam, it has an emergency window breaker and seat belt cutter.
Like the first product, I don't have a price for it, so perhaps it is not available at this time. So, find out more information about it here.