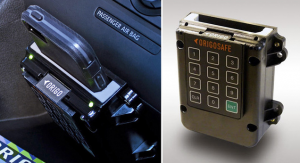 I think we all know that texting while driving is a serious issue, so much it has become a PSA cautionary tale. If you have a serious problem with it, then may I suggest locking up your phone with the ORIGOSafe?
The ORIGOSafe is essentially a lock for your cellular phone while you are driving. In fact, your car will not start if this phone is not plugged into this. If you attempt to unplug the phone from this, an alarm will sound and alert the system administrator.
If the car is in idling with the parking brake on, you can make phone calls. You can also use your Bluetooth device with your phone, something which I hardly ever see people in movies doing.
The ORIGOSafe is about $279 and can only work with the Samsung Galaxy S III. You can find out more about it here, and I hope you will never need this level of protection to shield you from texting while driving.