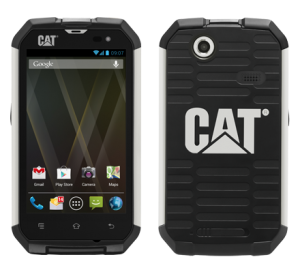 I know you are looking at the headline and thinking…seriously, Catphone? I suppose that if Catwoman had a phone like Batman, that would be the appropriate name.
The B15 smartphone is made by CAT. I'm sure that logo in the illustration probably looks familiar to you as you have no doubt seen it on construction vehicles. I suppose that the Catphone is a mobile device designed for those who would operate said machinery.
The Catphone is designed to take a lot of damage. It can easily survive a 6-foot drop. I asked the spokesperson to prove it last night at CTIA Showstoppers. Without hesitation, he dropped it, and the phone was just fine. Not only can it take the hit, but it can take the drip. It is water-resistant (up to 1 meter for 30 minutes), and you can even use the screen with a wet finger. I saw a demonstration of that as well.
As for what is on the inside, it has Android 4.1 (Jelly Bean) with a Dual Core 1GHz processor. It has a 5 Megapixel rear-facing camera and VGA front-facing camera. It only has 3G, but it has GPS, Bluetooth, and Wi-Fi.
In short, the Catphone has pretty much everything that a regular smartphone has, but you don't have to buy a specially-made Otterbox cover for it. That could be bad news for that particular accessory maker, and I think it is very interesting that CAT and Bullitt Mobile have created this wonder that could easily be the next standard of smartphones.