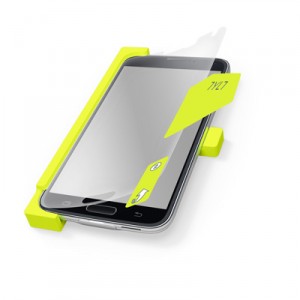 I have said before that I like to review TYLT products, and I had a chance to try out the TYLT Alin just recently. In all honesty, I don't understand why some other company hasn't come up with a product like it.
TYLT's Alin solves a problem that most people have with screen protectors, they are difficult to put on. Actually, they really aren't, but you have to do it just right, or your mobile phone has a new defect. With Alin, you just clean your phone and then snap it into the alignment tool. Then all you need to do is use the alignment tool to install the screen protector.
The guide edge is completely reusable, and the Alin comes with a 4 pack of 3 HD Clear Screen Protectors and 1 HD Anti-Glare Screen protector. The package that you can find here is for the Galaxy S5, and costs about $24.99. You can also get the Alin for the iPhone, iPad, and other models of the Galaxy.