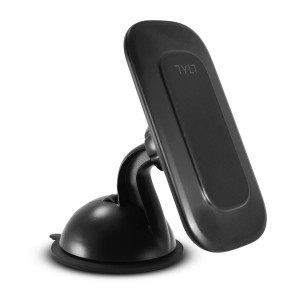 I have reviewed products form TYLT before, most recently, the Vu Wireless Charger. The company is very good at the accessories that it creates, and they have truly responded to customers' needs with the Capio Universal Car Mount with NFC.
There are a lot of Car Mounts, and one of the things that keeps them from being Universal is that smartphone and other cellular phones is that they are all different sizes. The Capio addresses this with a patented sticky surface that allows you to just stick your phone on.
I am not certain if you want to stick a tablet on there, even though the suction cup on the bottom has the same sticky material as the stuff on the sticky pad. There is a video that shows that the suction cup can hold a large weight, but I often find that "heavy lifting" is not a feature that you want to use constantly.
In addition to these adhesive features, it also has a ball joint neck for adjusting the angle of viewing. What I really like is the Capio is compatible with NFC Task Launcher, an application that works well with NFC phones which is good for custom profiles.
All in all, I will have to say that the Capio is a pretty good buy for what it does, and it has a small price at $39.99 on the TYLT website.