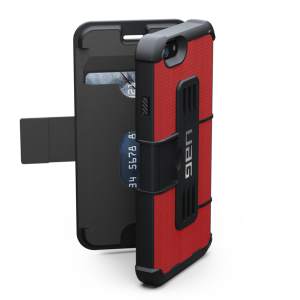 All right, it's time for another visit to our friends at Urban Armor Gear (UAG) with two iPhone 6 cases, the Rogue Folio and the Outland.
The Rogue Folio is one of those cases that doubles as a wallet, and it can hold about three credit cards. It is also made with water resistant FrogSkin Technology and grip, It also has a magnetic strap to lock the Folio closed.
The Rogue Folio can meet military drop-test standards, and there are some interesting holes in this case made for some audio and video output. If this sounds like something that you might be interested in, you can go to the UAG site for about $39.95.
Another case that I got to try out for the iPhone 6 is the Outland. It does not have the wallet feature, but it is pretty nifty in its own way.
It is feather-light with an armor shell and impact resistant soft core. It feels pretty hard and yet soft at the same time. There isn't much that I can say about that, because it's pretty much your standard case for a mobile phone.
If this something that you are needing, and apparently the entire world needs one of these. It can be purchased on the UAG site for $34.95.