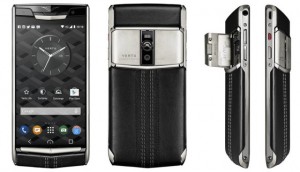 When it comes to really gourmet stuff, the same names come up like Rolex, Rolls-Royce, Prada, and Fancy Feast. Okay, that last one was a stretch, but you get the point. This Vertu Signature Touch is something for that 1 percent that everyone talks about.
Vertu's new Signature Touch has a Snapdragon 810 with 4 GB of RAM, as well as 64 GB of storage expandable via micro SD to 2 TB. Is there a card that can even hold that amount of data?
The Signature Touch has a 5.2 inch full HD display as well as a 21 Megapixel rear-facing camera with an aperture f/2.2 and a 2.1 Megapixel front-facing camera. The battery is a solid 3,160 mAh, and it comes with Vertu's Dedicated Concierge service. I believe that this is a personal assistant that helps you for 18 months.
Yes, you will pay for that. The price is $9,900 all the way up to $20,000 depending on choice of materials and services. If you can afford it, then you can expect it in mid-October.

Source