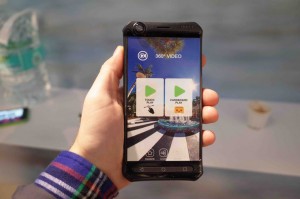 Well, it is great to see that VR is happening, and now that PlayStation has it and there are others coming out, there might as well be a way to get some video footage for it. I mean, you could get one of those cameras like the V.360, or you can just get a Yezz Sfera smartphone.
This Sfera has two spherical cameras to record 360-degree videos. If you want to share them, then you will need to get yourself one of those VR viewers like the Powis ViewR and Google Cardboard. It has 5 Megapixel cameras with a fish eye lens on both sides of the phone. By the way, the phone runs Android 6.0 Marshmallow, has a 5.5 inch screen, 3 GB of RAM, and 3,000 mAh battery.
Then there is this Finger-Pick allows the user to finger-navigate in any direction of the scene that it can record. Then there is a full-frame to show the entire 360-degree landscape on one window. Then there is a button to upload to YouTube.
I actually had a chance to try this out at CES 2016. Yes, that was three months ago, and the reason why I've got around to talking about it now is because…yeah, I've been a little behind when it comes to posting about stuff.
The Sfera is available for pre-order at $299.99 and should ship on April 30th.