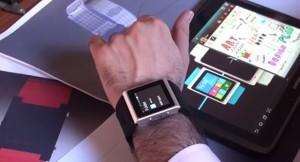 I have been seeing a lot of talk of smartwatches, and I'm still not convinced that I need one. I think Samsung has some sort of plan, but it is nothing compared to the A.I. Watch.
Most smartwatches are just something to pair with a smartphone via Bluetooth, but what makes the A.I. smartwatch different is it can be a standalone Android phone. Yeah, a phone on our watch! Clearly we have all wanted that since the age of Dick Tracy.
The A.I. Watch has a SIM card slot to support 850/900/1800/1900 MHz GSM bands, not to mention 3G. Then there is the 1.2GHz dual-core processor, good enough for working on Google Play. Other specs include 4GB for storage, 512MB of RAM, 500mAh battery, and 5 Megapixel camera.
All of this on a 240 x 240 touchscreen display, and it hopes to sell for $279 each. Right now, this is an Indiegogo campaign, and it wants $100,000 for it. Check out the cool video after the jump.