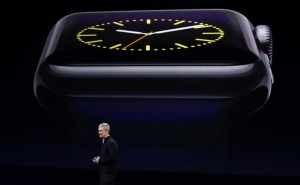 The Apple Watch was announced back in September, as we have reported before. Since then, there still haven been some things not revealed about it, like the release date, the price, battery life, and other features. Yesterday, Apple CEO Tim Cook took the stage in San Francisco at a "Spring Forward" to shed some light on the mystery.
There was much time devoted to the many features of the Apple Watch. Tim stated that developers have been working on thousands of applications since the company released tools last November. Apple Watch users will need iOS 8.2 in order to get the Apple Watch to work. In fact, iOS 8.2 adds the Apple Watch to your iPhone so it can pair with the Apple Watch. Fortunately, it is available now.
Another big question of the Apple Watch is how long the battery life will be. Tim Cook wanted to let Apple users know that it will be good for 18 hours. By the way, it will have a charger cradle that will charge it magnetically as it clicks into place on the back of the watch.
Then there is one feature that Tim Cook has wanted since he was five years old: it can take phone calls. I don't remember whether or not Tim announced that at the original Apple Watch unveiling.
The 38 mm model of the Apple Watch will be $349, and then there will be another 42 mm version (an Apple Watch Plus?) for about $399. There will be mid-level models for about $549 to $1,099. There will also be a luxury 18 karat gold edition for $10,000. The Apple Watch can be pre-ordered on April 10th, and it will be available worldwide at Apple Stores on April 24th.