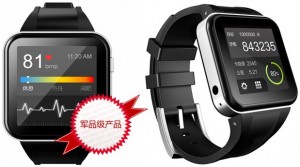 There seems to be a big push amongst companies to get a smartwatch on the market. I reported on the Smart Fitty smartwatch and how Apple is planning on making one.
This is the GEAK, a wearable device that has 802.11 b/g/n WiFi, and it allows for Android 4.1 downloads. This also comes with Bluetooth 4.0, NFC, GPS, and FM radio. It also can monitor sleeping pattern, pulse, blood pressure, and other types of mood and stuff. All this comes in a 8mm thick body and the chip has 512 MB of RAM and 4GB of storage.
Sound too good to be true? Well, the price is about $330, which is pretty up there. You can pre-order it for July 3rd. What interests me is that it could very well be the first official good smartwatch, and it just shows that a smartwatch war is coming.