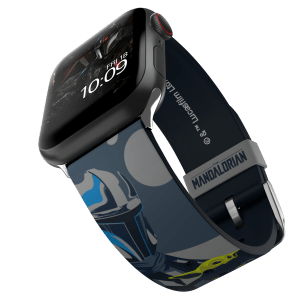 Yes, you can see that I have a bonus rundown of The Book of Boba Fett, and you can just skip to the video below if you want to catch that action. Yes, this is me trying to get more hits on my product reviews by trying to tie them into something trending.
Can you blame me? I am reviewing some MobyFox smartwatch bands based on the Mandalorian and Darth Vader, and the Disney Plus show, The Book of Boba Fett, has really become the new Star Wars show, and seeing Luke Skywalker and the Mandalorian once again really cemented that.
Yeah, I don't know what is going on with Star Wars anymore, but maybe that is going to be something good. Let's talk about the MobyFox smartwatch bands. You can see the Mandalorian watch there, in all its Baby Yoda and Mando glory. It is called the Beskar Armor Smartwatch, but it is by no means indestructible.
That doesn't mean that it is not sweat and UV-resistant. I mean, it is silicone, with a stainless-steel Star Wars engraved buckle. By the way, it fits the 38/40/41 mm and 42/44/45 mm sizes of all Apple watch series, and it even fits Samsung and other smartwatches. Also by the way, it comes with 20 plus exclusive watch faces.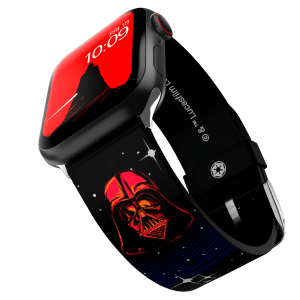 I'll go ahead and give the Darth Vader watch some praise as well, as this has the man's helmet, the Death Star, and the Imperial crest. It really captures his persona right on your wrist, and it is something to just love.
If you are looking to purchase these MobyFox smartwatch bands, head on over to the MobyFox site and pay $39.99 for each of them. I'm hoping that we can get more MobyFox products to review.