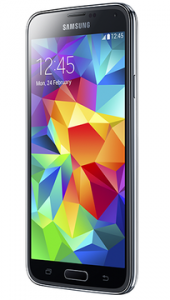 I suppose that we all knew that this was coming, since the Galaxy S III and S IV were such hits, it only stands to reason that an S5 would be showing up soon. Especially in the light of Mobile World Congress, the annual mobile phone show in Barcelona, Spain.
So what can be expected from the S5? I'll start with the most obvious difference, the larger screen. It is 5.1 inches, which is only 0.1 inches bigger. This means that S5 cases will have to be made, and hopefully I can test those when I inevitably test out the Galaxy S5. The resolution is also being upgraded with 2560 x 1440. The back has also changed into this polycarbonate "modern glam look" with pebbled silver.
As for what is inside, it has KitKat, which is Android 4.4. Also under the hood is 2.5GHz Snapdragon 800 processor, 2GB of RAM, IR remote, NFC, Bluetooth 4.0, USB 3.0, and either 16 GB and 32 GB worth of storage.
Other features include IP67 dust and water resistance, 2.1 MP front-facing camera, dual-LED flash, and a 16 Megapixel camera on the back. Another bonus is a heart rate monitor, to make it a fitness tracker. Another big addition is a fingerprint scanner.
We'll be seeing the Galaxy S5 in April from all major carriers. No word on a price, but I would imagine that there will be contracts involved.