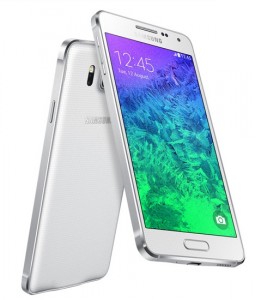 The Galaxy S series might have some…friendly rivalry, as Samsung has revealed its newest smartphone, the Alpha. I will say that I like the new aesthetic with the metal frame as well as a soft back cover.
The metallic construction is the biggest new feature. Another possibly new feature is an octa-core which is a quad 1.8GHz and quad 1.3GHz or quad-core 2.5GHz processor.
The screen is a 4.7 inch Super AMOLED display, 2GB of RAM, Wi-Fi, Bluetooth 4.0, NFC, LTE Support, along with Android 4.4.4 KitKat (the latest version of Android) right out of the box. The camera is 2.1 MP on the front, and 12 MP on the back. Just to let you know, there is no memory card slot, so make good use of the internal 32GB memory.
My Sources do not have a price on this, but it will be out in September in several colors including black, white, gold, silver, and blue.