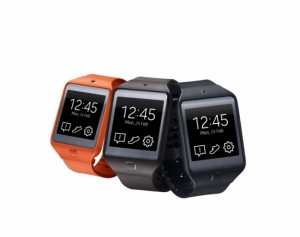 Well, if you didn't read the last two posts, then you would know that Barcelona, Spain is the site of Mobile World Congress, a big mobile phone convention. Not only has Samsung announced the Galaxy S5, but they have unveiled a trio of smartwatches with the Galaxy Gear 2, Gear Neo, and the Gear Fit.
The Galaxy Gear 2, as its name implies, is essentially a sequel to the smartwatch that was only unveiled five months ago. This watch has 1.63 inch 320 x 320 Super AMOLED display, 512GB of RAM, 4GB of internal storage, 1GHz dual-core processor, Bluetooth 4.0 LE, speaker, and speaker. As for the Gear Neo, it has the same specs as the Gear 2, but it doesn't have the 2.0 Megapixel camera with 720p HD video capture. The Gear Fit is focused on the fitness-interested users, and it has a much slimmer screen.
The interesting thing about these smartwatches is they are not Android like the first Galaxy Gear. Instead, Samsung is using their own operating system of Tizen.
I currently don't have a price for these smartwatches, but they will be available in all kinds of colors. I would imagine that they will appear some time when the Samsung S5 will be out, which will not be until April.