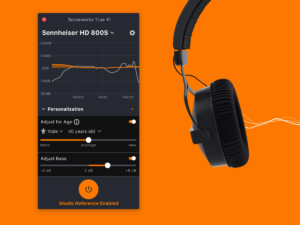 I'm going to do that thing that I do when I explain that I am not really an audiophile. In case you haven't figured it out yet, this is what I do when I am reviewing headphones, because I often don't hear a difference between two individual sets of phones. However, I had the opportunity to review Sonarworks True-Fi calibration software for my PC, and I can honestly say that I can definitely hear a difference.
All that is required to go the Sonarworks site and download it. From there, it asks some questions like your age and gender. Uh, why does this ask this, you might ask? Well, this is all about calibration. You can even see in the illustration the adjustable bar for an age bracket, and it has some interesting effects.
Of course, what you really want to do is calibrate your bass with your unique set of headphones. I had a chance to review it with the Marshall Monitor and the Samson SR920, which are two headphones that I have not had the opportunity to try.
From there, I could adjust the bass, and man, it is great to hear some seriously booming sound. You should be able to purchase this software on the Sonarworks site for $79.99.