(pic here)
Introduction (Does It Do What It Should)
Did you ever just get the feeling that you're doing the same thing every year? Not like a birthday, or a holiday, but something that just keeps happening that you don't really plan, as it just kind of happens. Kind of like how new iPhone cases have to be made annually, but for this example, I'm going to talk about Yubico. Every year, when I go to CES, I see Yubico, and I usually see them at one of those afterparty shows like CES Unveiled, Pepcom, or Showstoppers. This last January, I stopped at Yubico, and I was sent the Security Key C NFC and the 5C Nano.
Our Review of the Yubico Security Key C NFC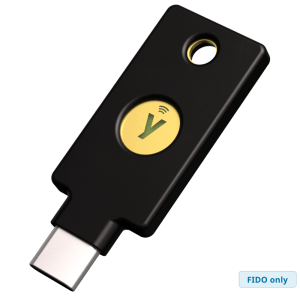 So, this is the Security Key Series, which is very good for popular online services such as Google Accounts, Microsoft accounts, Dashlane, Keeper, Github, Dropbox, Facebook, and Twitter. Now, if you are familiar working with that service known as LastPass, you will need a YubiKey 5 Series key. I've been using LastPass for the past few weeks, and I've been liking it. It products against phishing, an designed to eliminate account takeovers, and it enables compliance requirements for strong authentication.
So, here are some features of the YubiKey Security Key C NFC. First of all, there is a Tap-and-Go for Android, Windows 10, and iOS. Considering that there is a USB-C on all of the hardware that does that software, this is a good thing.
The YubiKey Security Key C NFC has a fiberglass reinforced bodies to protect the key from "everyday life". You can see that there is a hole on the top, so you can put it on a keychain.
Just to let you know, the Yubico YubiKey Security Key C NFC offers support for FIDO U2F and FIDO 2. FIDO 2 supports not only two-factor authentication, with strong single factor hardware-based authentication. By the way, the authentication speeds up to 4x faster than OTP or SMS based authentication.
Our Review of the Yubico YubiKey C Nano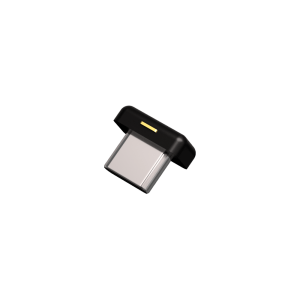 Okay, now it is time to check out the YubiKey 5C Nano, which is kind of this tiny little thing. Well, it is advertised as simple and easy, and it is scalable to integrate with systems tailored for all business types and sizes.
The YubiKey 5C works with most web services, and it is efficient to reduce helpdesk tickets for password reset or account lockout. It is also multi-protocol, a bridge between authentication methods and systems. Like the Security Key C NFC, it is a defense against phishing, eliminate account takeovers, and enables compliance requirements for strong authentication.
Not only does this have FIDO2, but it has multi-protocol support with Yubico OTP, OATH, HOTP, U2F, PIV, and Open PGP. It also has speeds up to 4X faster than OTP or SMS based authentication.
Facts About The Company
As I have said before, I have reviewed Yubico products before. The first time I reviewed them was in about 2016, which means that the company was about ten years old even then, as the company was founded in 2007.
What Does This Company Make?
The YubiKey is a small USB and NFC security key that allows security to any number of IT systems and online services. Along with the YubiKey comes this YubiHSM, the world's smallest hardware security module.
By the way, the word YubiKey is essentially a word shortening of "your ubiquitous key". Also, the Japanese word "yubi" means "finger", and you will need to use your finger to use this ubiquitous key.
Just the Specs, Man
If you're the type that needs this info, this section is for you!
Normally, I just copy and past the spec sheet, but I don't really see one here on the Yubico site. Personally, I think I covered what you need to know in the written review and the YouTube video. I don't really know a lot about some of the things that I am talking about, as if that isn't obvious.
If there is something on this that I didn't cover, please let me know.
What Do the Reviews Say?
As far as the Security Key C NFC goes, it only has one rating on Amazon. That rating is only 3 stars.
Just to let you know, the YubiKey 5C Nano has about 890 reviews of it on Amazon. It averages at 4.5 stars, and I don't know if this is our highest reviewed product, at least with the numbers of reviews.
Okay, Get To The Unboxing Already!
Okay, I Like It, Just Give Me The Link So I Can Buy It Already!
Maybe I Want It, But Is There Anything Else Like It? Maybe For A Lower Price? Please?
Well, I did a search on USB security key, and you know what showed up? You guessed it: Yubico. I found some interesting options like CryptoTrust OnlyKey, uQontrol Qkey Password Vault, and SoloKey as some options.