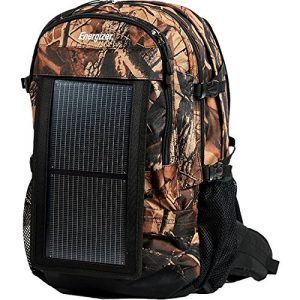 Two years ago, I had the chance to review some EnerPlex products (also known as Ascent Solar), and one of them was the Commuter and the Executive backpacks. I was hoping to review their products again for the holiday season, and I found out that Energizer has acquired the use of Ascent Solar products. Now Energizer has a great solar-powered product with the Powerkeep Wanderer.
This solar-powered backpack has a 10,000 mAh battery that is detachable and is capable of absorbing the sun's rays for the sake of power to your mobile devices. In fact, it has two output ports on its power bank so you don't have to worry about your smartphone or tablet losing power at a crucial moment. By the way, the PK10K power bank can be charged from the sun, AC, or a USB charging port.
Now, most solar backpacks have that feature, and it really is what you need for life on the go. Not having power when you need it can be terrible, and yet the PowerKeep wanderer takes it another step. It has an interior hydration pocket with a BPA-free reservoir and drinking hose. Oh, and it also has a waterbottle holder as well.
So what you have here is a backpack that you can take camping, and you will have lots of power as you are wandering, hence the term Wanderer. Honestly, if you are going to be away from civilization, and you still want to be in touch with all things digital, I will recommend the PowerKeep Wanderer.
You can find out more information about this product on the Engerizer website. It is available on Amazon for about $187.77 in red, green, and a really cool camo style.