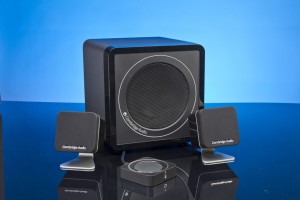 I covered the Cambridge Soundworks Oontz, but I don't know if Cambridge Audio is a similar or the same company. The Minx M5 is a "powerful 2.1 audio system that reproduces computer audio with clarity, emotion, and passion".
As you can see, it has a huge subwoofer for some punchy bass as well as some satellite speakers. they can be used for multimedia usage, like a laptop or something. All of it includes USB audio input and high-quality DAC to process digital audio better than your laptop soundcards.
You should be able to get this from the Cambridge Audio site for about $229.00.