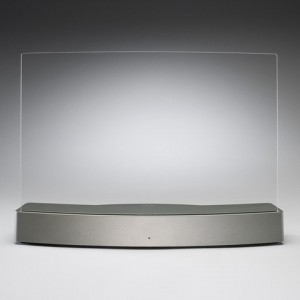 One thing that I have to say about speakers is that they all look alike. You know, with the woofers and the tweeters and the usual mesh in front. The ClearView audio Clio speaker really brings a new aesthetic.
As you can see, the Clio is an invisible wireless 2.1 speaker that uses an ultra thin curved transducer made from clear acrylic glass. It can be made for Bluetooth, as well a 3.5 mm mini-jack wired connection.
The transparency definitely works for this, as its minimalist design that allows it to blend into whatever room it is in. It is available in charcoal, silver, and dark bronze for a price of about $349.00 on the Clearview site. Sure, it is a little expensive, but any new technology generally is.