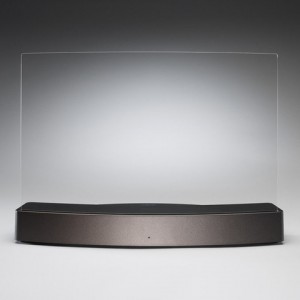 While I was at CES 2015, I had a chance to see the Clio, an invisible 2.1 Bluetooth speaker that you can see here. I couldn't help but think that I had seen it before, but I just couldn't place where.
I suppose that the Clio Invisible Bluetooth Speaker is made to fit in within to any room. It isn't like a regular speaker, which is usually ebony black, but as you can see, it is clear.
I have no idea how it works, but I've got to hand it to the company for making it work. Apparently, it is made for some panoramic sound, and it is quite good. I had a chance to sit down with the company and try it out, and I cannot remember they managed to get a car's windshield to play music.
You should be able to purchase the Clio Bluetooth speaker for about $349.00 on the Clearview Audio site. In case you are wondering, I never found out why the Clio looked so familiar to me. Yeah, I'm sure you probably thought it would end with a link to another article, but I just don't have anything for you. Well, it won a CES Innovation, last year, so maybe I saw it there.