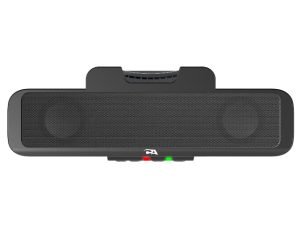 It's time to review another terrific Cyber Acoustics product! What is it now, some kind of pair of headphones? How about a speaker bar! This is the Compact USB Speaker Bar with Integrated Monitor Mount.
So, is this like a speaker bar for your big-screen TV? No, you can see how big it is in the picture. Actually, you can't, but you see those clips on top of the product? By the way, the image is upside-down, presumably so the Cyber Acoustics CA logo can be seen. Those clips can fit on your ordinary laptop.
What you also don't see on the picture is the cord, which is a USB plug-in. When I plugged it into my laptop, I immediately had some great sound. I could control the volume on the speaker's top with some buttons, mute the mic, and there is even a pause button. It has an adapter in case you want to plug-in a USB-C device like a smartphone.
About the only thing it doesn't have is Bluetooth. Oh wait, it actually does. Yeah, that was short-sightedness on my account and an unedited line from a previous draft. I think part of it was just I didn't think something of this low price was capable of Bluetooth.
It is a pretty simple product and can be purchased for a price of $24.99 on the Cyber Acoustics website.