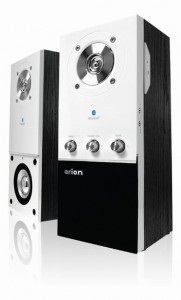 Well, if you missed the first portion of my Eagle Trilogy with the Foldable Bluetooth Headset…tough! No, seriously, you can read it here. Ah, I love Internet reporting. It's just instant gratification!
This is another Bluetooth product, and these are bigger than most Bluetooth speakers that I normally review. Most of them are small, designed to just give the MP3 player on your smartphone a louder presence. This Bluetooth Speaker System from Eagle are slightly larger than those types of speakers.
Yes, these Bluetooth Speakers are good enough for your television, and they can even be connected via wires to your TV. They also have mounts on the back for the wall. This is quite convenient.
As for your smartphone, tablet, and laptop, the wireless feature worked so well it had practically paired before I asked my phone to do so. The RMS Power is 20 Watts and the Peak Power is 30 Watts, which means they are quite loud. I tried them out for myself, and believe me, they are quite loud.
All in all, this is very good and I recommend them. You should be able purchase this Bluetooth Speaker System on Amazon for $94.00.