If you like to listen to music while getting ready in the morning, this product we're about to review is for you. It's an iHome product- a company that we've done many reviews such as this one. We're glad to partner with iHome again to show you another cool product. This is the iHome Reflect Trifold Vanity Speaker with Bluetooth.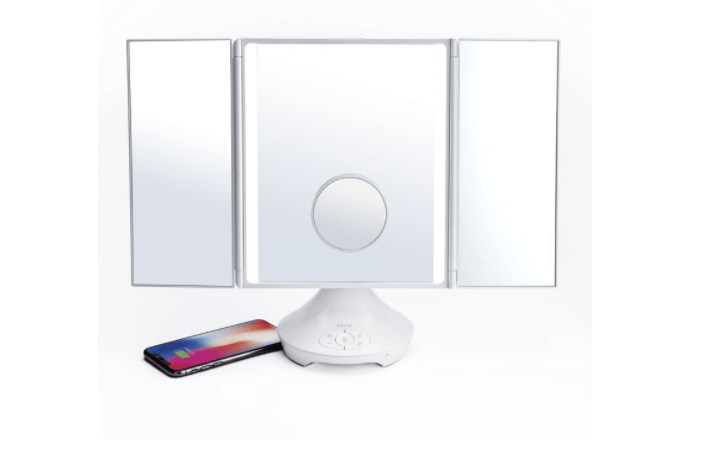 With the mirror, you get a 15″ x 9″ wide-view, distortion free.  The side panels can be adjusted so you can get a good surround view. There's also a small, removable magnifying mirror. The magnifying mirror IS pretty small, although, who wants to see their whole face magnified 10x? The lighting is great- 200 Lux with 3 settings of brightness, but also three dimmable hues- warm, bright, and cool.
The base has all the buttons to control things like brightness, volume and microphone, but it can also be voice controlled with Siri or Google Assistant. Gotta love technology these days! There is a speakerphone setting as well, and it is Apple iOS 10 compatible to do voice caller ID.
The sound is probably average for an iHome product. You aren't going to get surround sound or loud stereo quality. The specs say 3 RMS watts, which, I'm not an expert, but it's pretty low. Maybe better than your cell phone on its own, though. It's decent, and connects well with Bluetooth.
Included is a microfiber cleaning cloth, and there's a 5 W USB-A port so you can charge any phone you have a cord for. This could be a good traveling vanity, though you need to remove the magnifying mirror to close it properly. I feel that is probably not a deal breaker.
You can buy a new one for $99.99 on Amazon.com. You can find more information on the iHome site.
Thanks to iHome for sending us this product to review. As with most of the products we review, we are not sponsored by iHome, and our reviews are not biased or paid for.