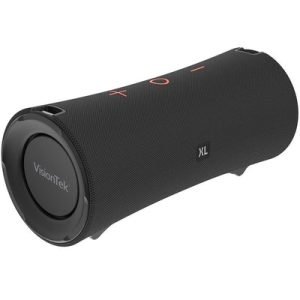 We have reviewed a lot of Bluetooth Speakers on this particular website/video channel, and it really is a matter of what makes them unique. This particular one from VisionTek, the SoundTube XL V2, certain is a house-rocker.
Seriously, I paired this up with Bluetooth Version 4.2 and then cranked up the volume control on my phone. I thought it was as loud as it could get, but then I hit the plus key on the speaker itself. Then it got super loud, and I hope that I can get that kind of volume to reveal itself on the video. This is 40 Watts of Stereo sound, by the way.
By the way, holding down the plus and minus signs cause it to advance a track. That was something that I didn't know when I was trying it out, and that kind of shocked me at first.
Other than that, I'm pretty pretty pleased with the VisionTek SoundTube XL V2. Best of all, it works really well on the road as you can get the strap on and put it on your shoulder. I feel that is a standard feature for a Bluetooth speaker such as this, as well as it being IPX7 Waterproof rated.
I did find it odd that it has a USB micro to charge its 7200mAh battery, something that I didn't really think happens with newer products. I guess I bring this up every time that I encounter a USB micro product, but this is the V2, right?
Anyway, it comes with a 3.5mm Aux-to-aux cable, as well as the charging cord. There seems to be a button on the back made for taking phone calls, which is something that most people don't use for a speaker of this quality.
If you want this, click on the VisionTek site and pay $99.99 for it.