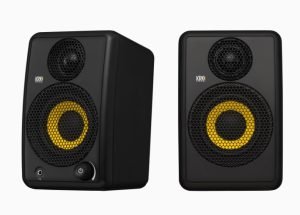 I have to admit, when I saw that the KRK GoAux 3 portable nearfield monitors, I assumed that they were talking about displays. Now, the GoAux3 is definitely made for audio and not video, but it certainly does a lot of great sound for sure.
I think I mentioned in my last IK Multimedia review that I might not be the right audience for this product. I mean, I don't think I ever needed better audio other than my earbuds, but that could be my problem, if you have seen some of the audio with my videos. However, you might want to have some seriously good sound on your laptop or desktop.
I still like the idea of having stereo speakers that you can carry around with you, and the GoAux 3 comes with a bag that has about everything. You can see in the video how it has these stands that are adjustable, but you will need those screw-things to mount it there. Then you will need those two cords that I show in the video, and from there, you just plug it in and link with Bluetooth.
Speaking of things from the video, I promised that I would put the stats of the GoAux3, and so here they are:
SYSTEM INPUTS BLUETOOTH, RCA, 1/8" AUX
SYSTEM OUTPUTS 1/8" STEREO HEADPHONE JACK WITH AUTO SPEAKER MUTE
BLUETOOTH VERSION 5.0 AND OLDER COMPATIBILITY
LF TRANSDUCER 3" WOVEN GLASS ARAMID
HF TRANSDUCER 1" SOFT TEXTILE DOME
CROSSOVER FREQUENCY 2.5 KHZ
POWER OUTPUT BI-AMPLIFIED CLASS D (60 WAT TS RMS TOTAL SYSTEM POWER; 22 W RMS FOR
EACH WOOFER, 8 W RMS FOR EACH TWEETER)
MAXIMUM CONTINUOUS SPL 95.5 dB SPL
SYSTEM PEAK SPL 99 dB SPL
MAXIMUM SYSTEM SPL,
MOMENTARY PEAK 105 dB SPL
FREQUENCY RESPONSE (-3 dB SPL) 65 Hz – 20 kHz
FREQUENCY RANGE (-10 dB SPL) 60 Hz – 22 kHz
SYSTEM DISTORTION < 0.2% THD+N 45 Hz - 20 kHz (-3 dB Max Power) SIGNAL TO NOISE RATIO >95 dB (A-weighted) @ rated output level
COVERAGE (HORIZONTAL X
VERTICAL) 120 Degrees x 60 Degrees
AC INPUT VOLTAGE AC 100 – 240 V 50/60 Hz
AC POWER CONSUMPTION Idle 100/240
VAC: 5.57 W
Max Power 100/240
VAC: 60 W
Standby Mode 100/240
VAC: 0.475 W
ENCLOSURE TYPE Rear Ported
ENCLOSURE MATERIAL ABS
ENCLOSURE FINISH Black Textured
DIMENSIONS (H x W x D) 6.8" x 4.37" x 4.72" (172 mm x 111 mm x 120 mm)
WEIGHT 6.94 lbs (3.15 kg) Including both speakers, stands, carrying bag, and included accessories
SKU GOAUX3
If this is something that you want, then you should head on over to the KRK Systems website and pay $349 for it.