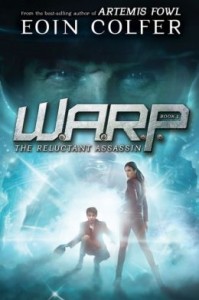 I usually don't review books, but then again, I just reviewed that DawnSinger book last week by Janalyn Voigt. Hyperion sent me a new book by Eoin Colfer, and I am not familiar with his work. I have heard of Artemis Fowl, which is is probably most famous for, and a series that he drew to a close recently. I assumed it was a Harry Potter clone, but from what I have heard, Artemis Fowl is no more Harry Potter than Harry Truman.
W.A.R.P. is a new series, and it uses time travel. Yes, time travel is one of those genres of speculative fiction that has been done to death. With Back to the Future, Terminator, and practically every speculative fiction show having time travel related episodes, it is hard to put any new twist on it. I do like the show Continuum, but despised Looper.
The title is an acronym for Witness Anonymous Relocation Program. In case you are wondering, the main character, Chevron Savano, thought that the abbreviation was also odd, adding the Anonymous just so they could spell out the word "warp". I love it when characters in stories comment on the ridiculousness of the situation.
The premise of W.A.R.P. is that time travel is real, and is used to protect key witnesses into trials. So if there is a mob informant, you can send him or her back into a time when no one is trying to kill them. Okay, this is either the coolest or dumbest thing that I ever heard, and W.A.R.P. makes it more of the former in what could have easily been the latter.
Fortunately, Colfer manages to create good characters in this otherwise ridiculous scenario. Chevron Savano is a teenage girl who has worked as an FBI agent. Yeah, she has an odd backstory that seems to involve the FBI sending in undercover agents into high schools. Chevron's operation went wrong, and the Feds decide to send her to London for an assignment that just needed a warm body.
Chevron's assignment is to protect this pod, and take care of whoever comes out of it. Of course, it turns out that a mutated man and a small boy emerge from this pod. You heard me right, there is a mutant in this too. Apparently, some time travel trips cause mutations like a dinosaur head. Dang, I wish the book would have gone into more detail on that. Again, this premise just keeps getting more awesome.
Chevron meets Riley, who is essentially a boy that Fagin would have taken in from Oliver Twist. Riley has that cockney accent from 1898, and his is quite a plucky lad. You can see him on this cover, and I can't help but think he is supposed to be a young Doctor Who. I mean, I don't think we ever hear of Doctor Who having a childhood, so I guess he fills in a void never seen by Doctor Who's biggest fans.
One of the best characters is Garrick, the villain of the story. Albert Garrick is an 1898 magician who literally sawed a girl in half, and soon became a contract killer. He took in Riley as his assistant, but when Riley is taken from the London past into the future (our present), Garrick goes after him. Garrick is thrilled that this strange time travel technology is magic come to life, and he somehow merges into another human when going forward in time. This makes Garrick a very cool villain, and much of the story is the heroes running from his sheer evilness.
I will say that I really got into W.A.R.P., and I hope that this series is even better than the Artemis Fowl series, which I now want to read. Since this is called Book 1, I would imagine a Book 2 is on its way. Considering this book could easily be the premise for a TV series, I would like to see where it goes.