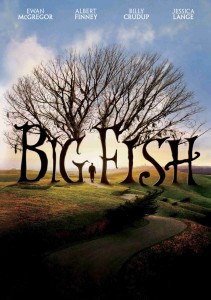 Just to be clear, calling the film Big Fish science-fiction, fantasy, or any type of speculative fiction is an insult. The problem is, we always have to put some genre label on a film. I personally know people who won't watch anything with a Sci-Fi/Fantasy label, and they would be sadly missing out on Big Fish.
Big Fish is sort of a departure for director Tim Burton, who is known for odd films like Beetlejuice, Edward Scissorhands, two Batman films. His films usually have a dark yet whimsical spirit, as demonstrated in a remake of his first film for Disney, Frankenweenie. Big Fish has a very light look to it, and feels more like a modern-day folk tale.
The film is adapted by a novel from Daniel Wallace, and I have heard that it is all narrative. The story is about Edward Bloom, who claims to have lived this very amazing life full of giants, were-wolves, and other kinds of interesting fantastic things. Edward grows up to be an old man, and he tells these stories to his son, William. William assumes that these stories are just stories, but Edward insists that these particular tales of the fantastic are true.
The story of Big Fish is William dealing with the imminent death of his father, as well as Edward's stories, told in flashback. I suppose that the big mystery is whether or not Edward Bloom is a liar, lunatic, or really has lived a fantastic life.
I do not want to spoil the ending, but I felt that the film resolves the issue of William and Edward in such a way that there is nothing definite, and yet there is a lot of sense of closure. I don't want to tell any more than that.
I will admit that Big Fish is one of the few films that stirs my emotions to tears by the end, and I can't really say why it works. I admire that it really plays with the idea of mixing fantasy and reality, fiction and fact, and I can't really say more.