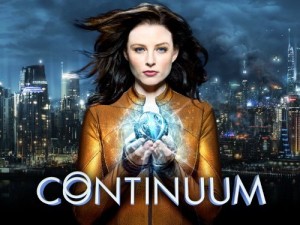 Normally, I like to review films on Speculative Fiction Friday, but I found a science-fiction series called Continuum that is worth a look. Netflix currently has the 10 episodes of the first season, and it is worth watching.
Continuum is about time travel, and yes, this is something that has been done to death. When I did a search of shows that involve time travel, I found quite a list. In most cases, certain television shows had an episode with time travel on it. Shows like Quantum Leap and Doctor Who have time travel as part of the plotline, and now Continuum will join this specifically time travel premise club.
The story centers around Kiera Cameron, who is a detective from the year 2077. She manages to bust a group of criminals from the future, but on the day this group is about to be executed, they somehow find a way to go back in time. When Kiera tries to stop them, she is transported into the past of 2012.
When Kiera finds herself in an odd place, she calls for backup, only to be answered by a young genius named Alec. Alec apparently created this frequency that the police use in the future, but he is able to access it in the present. Yeah, that sounds confusing, and I didn't really buy his appearance as he seems a lot like Al from Quantum Leap, except he's the from the past. Kiera's special frequency allows Alec to see what she is seeing, so Alec becomes the invisible assistant.
I am also not really buying how Kiera can somehow walk in to the police department and find herself a job, but Alec is a hacker and we know that most hackers in TV and movies can do just about anything. Kiera even has a new partner, and she keeps her true origins a secret.
Okay, so this is a pretty hard plot to swallow, so what makes it work? First of all, it doesn't try and get too confusing with its time travel theories. A lot of films like Looper go way crazy when it comes to time travel, and Continuum spells it out quickly. Apparently, time travel works in such a way so that if you go back in time, whatever you do will already be a part of history. This is different than most films, where going back in time allows you to tamper with history.
The future where Kiera comes from is also interesting. Apparently, corporations run the government, and it has been instituted past the point where people think it is evil. It is full of technology that is both horrible and wonderful at the same time. For example, the police can inject a suspect with something which will cause the convict to feel pain unless he/she turns him/herself in.
Kiera has this gun that can fold out like the cool masks from the original Stargate movie. Oh man, that is so awesome. She also has a suit that can change color, have digital readouts, and even deliver a shock of electricity.
To make the series more interesting, the creators gave the main character a son who is left in the future. This is about as deep as Kiera gets, and I will have to say that these characters could use a little more development than that.
Continuum is one of those shows that I actually hope has a short lifespan. The reason why is because most shows like this just drag on, adding plot elements just to keep it going and eventually driving it to cancellation anyway.