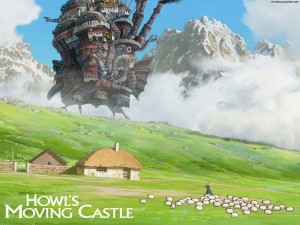 I have been wanting to talk about the films of Hayao Miyazaki for a while. If you have never seen one, then you really ought to, even if you are not into anime.
There is a reason why Disney has been importing Miyazaki's films into Studio Ghibli, and John Lassiter, the big cheese at Pixar, recommends them so highly. It is because Miyazaki's films are imaginative as they are different.
The first time I saw Howl's Moving Castle, I had a hard time understanding it. I don't want to attempt to explain the plot too much, because one of the cool parts about watching a Miyazaki film is the discovery of a new world and all the struggles that the fantastical but believable characters face.
The film is about Sophie, a young lady who works at a hat shop who is cursed with a spell by the Witch of the Waste that makes her go from 18 years to 81. Sophie then journeys out of her town to find a cure, where she discovers a living scarecrow and a castle that walks with legs of its own. The castle is owned by a sorcerer named Howl and his pet fire-demon Calcifer.
Like most of Miyazaki's films, the world of Howl's Moving Castle is full of steampunk technology along with fantastic flying vehicles. It is a mix of both science fiction and fantasy, and it works so very well. One of the things I also like about Miyazaki's films is there often isn't a "bad guy". Granted, there are heroes and villains, but I enjoy watching how the conflict brings out the best and worst of them.
Some of my Christian readers might be put off on this film due to its sorcery and fire-demons. Just keep in mind that the films takes place in a different world, and that even though some of the specific rules of good and bad do not apply, the general ones do. The story is really about getting the courage to face up to terrifying things, which, in this case, is a war.
My nine-year-old daughter loves this film, and I absolutely thought she wouldn't. The more I watch it, the more I appreciate what Miyazaki did and is continuing to do with his fantastical films. I highly recommend watching it at least once, and then seeing it again for even greater appreciation.