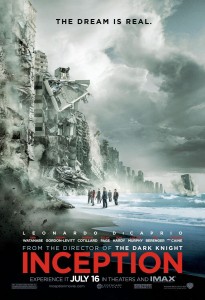 I figured that it was about time that I wrote an article on a relatively recent film that has now become a classic. Inception is one of those films that is speculative fiction, but it tones down a lot of speculative fiction elements for the sake of its story so much that there are times when I forget it is supposed to be speculative fiction. Not that the film doesn't have a lot of special effects going for it, and the plot is very, very complicated.
Inception is one of those types of films similar to The Matrix, in that it spends half the time explaining itself and half the time within the action. Like The Matrix, it deals with a technology to bring a person into a virtual world. Instead of machines putting humans into a coma where they make the "real world" a dream, Inception deals with technology that allows you to enter into another person's dream.
This film could have spent a lot of time making the dream-entering technology dystopian and odd, but it is just a simple, portable device. I'm not certain if Inception is supposed to take place in the future, but it is revealed that this technology is illegal, and developed by the military for intense training operations.
The main characters of Inception, led by Leonardo Decaprio, are essentially mental burglars, who are hired to enter into the dreams of powerful businessmen to steal corporate secrets. That alone is an interesting premise, and the film takes it several steps further. For example, the dream-burglars have perfected a dream-within-a-dream method where they fool their mark into believing their dream-heist has ended, but it has only just begun. If that last sentence sounds confusing, just see the film, as most of this dream-entering tech is explained.
The main character of the film, Mal, leads a team of dream extractors. He and his wife once experimented with this virtual dreaming technology, and it somehow screwed up her mind so much that it led to her suicide. Mal, fearing that he might somehow be blamed for her death, fled the country, leaving his two children behind. He then receives an assignment which requires Inception, using the dream technology to put a thought into someone rather than removing a thought from them. If he is successful, the tycoon that hires him will somehow clear all the charges against him.
This is usually the plot for a "heist" movie, with one last assignment that leads to one big payoff. Like a heist movie such as Oceans 11, there is a lot of planning, and this film uses these scenes to explain Mal's backstory as well as how this odd technology works. They apparently have to hire an architect to create a dream for the victim, and they use the aforementioned dream-within-a-dream plan not one, not two, but three times. If you haven't seen this film yet, hurry up and join the world and just see it already, because there are spoilers after the jump.
The result is confusing, but it never feels like a mess. You may have to take notes just to keep all the facts in this film straight, and I have found that there are several things about this film that just don't add up.
Instead of causing me to discount the film for lazy writing, I find that the film's complexity draws the viewer in even more. I'm going to spoil the ending because it is one of those like Citizen Kane or Fight Club, with a twist that you can't keep a secret.
In the end of the film, Mal spins a totem, a top that will show him if he is truly dreaming. If he is dreaming, then the top will not quit spinning. The film flashes to its credit sequence before the top stops spinning, although we do see it wobble.
There is no sense of closure whatsoever, which is why it is one of the best endings of any film. As far as I am concerned, it shows that Mal is still dreaming, but there is plenty of evidence in the film to show that Mal was dreaming for the entire length of the film.
Perhaps the real lesson of the film Inception is that it is just unhealthy to mess with your mind or other minds with virtual dreams, because eventually, you will lose track of reality. This is something that Total Recall (the original version) briefly touched on, and Inception also gives it the same treatment, making it entirely up the viewer.