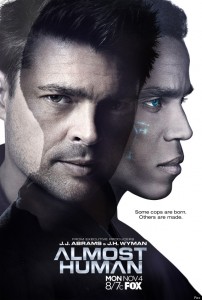 I usually don't review TV series on Speculative Fiction Saturday, and I think it is simply because there is there are probably not too much of them. I reviewed Continuum a while ago, and I should probably get around to writing on my take on Doctor Who. Many sci-fi shows have a big budget, and they often don't find their audience before the money runs out. Take shows like Terra Nova or others of this type. I hope this isn't the case for Almost Human.
Almost Human has a very simple premise. It takes place a few decades in the future, and the world is so inundated by technology that it is essentially spinning out of control. As a result, law enforcement officers are required to partner up with a robot.
In other words, it is a buddy-cop show with a human and a robot. Just think of Rush Hour or Lethal Weapon, with an I, Robot twist. Why does this buddy-cop premise continue to survive in Hollywood? It's very simple. You have the advantage of a interesting plot with two strong main characters. There is the satisfactory potential of solving an intriguing case, made even more interesting as the relationship between the two mismatched law-enforcers bond during the investigation.
In this case, the main character is John Kennex, played by Karl Urban, who is a veteran of some film franchises. He was Eomer in Lord of the Rings, the new Bones in the new Star Trek films, and Dredd in Dredd. Kennex has a backstory of losing his leg in a shootout and his girlfriend, which will no doubt become more developed in later episodes (hopefully over entire seasons). He wakes up after a long coma, gets a robotic leg, and goes back on the force to find that all cops have to have a robotic partner. The current series of robot partners are very dictatorial and logical, and John literally kicks the robot out of his police car. He does it in traffic too, and that robot is expensive highway litter. That is simply great.
John then decides to get another partner, and he decides to adopt an older model who goes by Dorian. Dorian is played very well by Michael Ealy. I honestly never heard of this actor, but something tells me that this part will secure him other parts in the future. Ealy plays Dorian with a genuine degree of emotional subtlety, and he has these cool lights that go on whenever he is deep thought. This is also simply great.
Now, remember when I said that the world of Almost Human is pretty much out of control? It doesn't really look that way, honestly. The setting looks rather like an ordinary city, but more advanced. I don't know what city it takes place in, as there don't seem to be any landmarks or anything else that would give away the location. Still, I get the feeling that we are going to see just how dark this future is, even if it doesn't look like Blade Runner.
For example, the second episode deals with John and Dorian tracking down people who create illegal sexbots. That's right, the future has sexbots, robots with cloned skin that are essentially legalized ersatz prostitutes. If you think that sexbots isn't where we are headed as a society, then I am forced to label you as either too naive or too optimistic.
The thing about Almost Human is that I don't really care about the individual cases. Like most shows, what I remember is the development of the story-arc, and how the characters grow. I will have to say that I can say this about most television shows these days, and this is probably not a good thing.
There are elements of this show that genuinely impress me, which is rare in today's television landscape where pretty much everything has been done before, and done to death. Almost Human has incredible potential as it will no doubt probe into the part of us that makes us human.