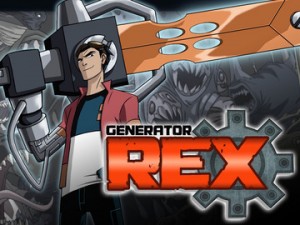 I finished last month's line of films with my theme of weird independent films, so I'm not really certain what theme I want to go with this time. I suppose that I could talk about my favorite animated speculative fiction shows, but I have to admit that Generator Rex would not make this list.
I remember the first day that I turned it on and watched it. It is weird to actually turn on the TV and watch a show these days. After all, most shows have a "story-arc" which requires the viewer to watch the show from season 1, episode 1 just so he/she knows what is going on. I was able to figure out what was going on from some random episode, but even if you watch the show from the first episode, it is somewhat confusing.
I am told that one should not release any show whose premise takes more than ten seconds to explain. Here's the one from Generator Rex: In the future, some explosion from a scientific experiment releases nanites into the atmosphere that will infect certain creatures to mutate uncontrollably into Evos. Rex is an Evo who can somehow control his nanites, and can even cure Evo, but not all. He is part of a group known as Providence that fights against Evos, and he has amazing technological shape-changing superpowers.
So, is that confusing? It actually isn't, honestly. In fact, the first episode shows Rex explaining this concept in a voiceover, while fighting an Evo. The Evos on this show really look horrible, and they feel pulled straight out of the imagination of H.P. Lovecraft. They often have multiple eyes and mouths, and very asymmetrical body structures. I can't help but wonder if eighties cartoons could even show the monsters on this show, judging them as too scary for younger audiences.
Rex is the typical arrogant teenager, and he is joined by an ensemble cast who are sadly just as typical. For example, there is Agent Six, who looks just like Hugo Weaving's character Agent Smith from The Matrix. Agent Six apparently is just as lacking in personality, and he has these fold-out swords so he can fight like a ninja. There is also Bobo, a monkey who can speak and shoot guns. I suppose every cartoon needs a cute animal sidekick, and I think Bobo is that. Then there's Doc Holiday, a pretty doctor who is way too young for her job as chief of something at Providence. Providence is headed up by someone known as White Knight, a role played by J.K. Simmons (J. Jonah Jameson from the Sam Raimi Spider-man films). White Knight lives in this bubble just so he can avoid exposure to nanites, and he's quite the bureaucrat. Rex also has a best friend named Noah, who is sort of the straight-man of the group.
The biggest problem that I have with Generator Rex is that it feels like it was supposed to have some sort of massive saga, but it doesn't feel structured that way. I wish the show had some sort of "origin episode", where we see Rex get his powers, the big nanite effect, and all. There is some origin episodes, but they don't really show the entire backstory. There are several things that are missing in this story, and I won't spoil it if you are interested in seeing it for yourself. The reason why I bring up the subject of the backstory is the show constantly brings up that Rex has lost his memory, several times. This really brings up a lot of potenital backstory that we never really see.
I will have to say that Rex's powers are interesting, as he seems to be able to change into half-human and half-machine hybrids. It is definitely an original power that is difficult to see in a world that is saturated by superheroes with powers that we have all seen before.
I'm not certain that I can recommend this show, but I did watch all of it on Netflix. So I guess that I didn't hate it. At least, I think that I watched all of it. According to imdb, the show runs from 2010-, but the last episodes aired over a year ago. The show's last two episodes are called "Endgame", but there is a lot of loose threads that didn't get snipped.