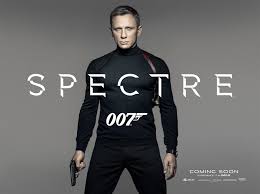 I believe that this is the first time that I have reviewed a James Bond film, and this is probably cheating. James Bond films are not science-fiction, unless you count Moonraker. However, I recently wrote about how James Bond could be relevant in today's age, and there are some themes in Spectre that have been explored in speculative fiction works, and is a commentary on today's technology.
I probably should briefly discuss James Bond, but even my son has heard of him, and he has never seen a single one of the many movies. The reboot that occurred when Daniel Craig took the role was probably the best thing that could happen to James Bond. It was a way of taking him back to his roots and introducing him to a post 9/11 world. I recently watched Casino Royale, and I believe it is one of the better Bond films, and it would be the best if not for the iconic nature of Goldfinger.
For some reason, James Bond has this really annoying habit of going rogue in every movie he is in from now on. Now, there has been some events in the last movie, Skyfall, that have dovetailed into this film. The female M, played by Judi Dench, died in the last film, but she left a posthumous message asking Bond to kill someone and "not miss the funeral".
This is one thing that I'm not really liking about James Bond, as these most recent films have emphasized Bond as an assassin. Now, I understand that he has a license to kill, which never made sense to me. I mean, this guy has a permission slip to break one of the Ten Commandments! Personally, Bond is a spy, which means he will have to be the fly in the ointment in order to topple dictatorships. He isn't just a trigger, but a problem-solver, and the guy you call when you have to get your hands dirty.
The film opens with Bond killing this man, who would have actually killed a whole stadium full of people. So that's okay, right? Yeah, the morality of Bond is pretty questionable. Anyway, Bond really made a public spectacle out of killing this guy in a helicopter in Mexico on the Day of the Dead. It is actually a big action setpiece, and one of many in this film that sadly get worse as they progress.
This guy that Bond kills has a ring with a 7 armed octopus. Then it goes into the title sequences full of babes and bullets that the films are so well known for. There is also this scene where an octopus attacks a naked woman which is really sick hentai porn stuff. I have to give the film negative points for that, because I just don't see a reason for that. Yeah, this isn't a good review.
Anyway, apparently Bond is in trouble with the current M played by the great Ralph Fiennes. Bond is grounded, but Q, a classic Bond character that was finally brought into the rebooted Bond universe for Skyfall, tracks Bond with some microchips in his blood. Yeah, this is kind of speculative fiction tech.
At this point, there is a weird subplot about how MI6 is going to be merged into some new organization, and drones will replace the double O program. There is this guy who plays Moriarty on Sherlock who Bond calls C who represents this new ideal, and he's a jerk.
Apparently, the late M told Bond not to miss the funeral of the guy he killed, so he sees this guy's widow. He even stops assassins from killing this lady, and they have sex. Yeah, Bond also has a license to woo any woman, regardless of circumstances. I mean, her husband just died…and I really don't want to get into this.
Bond soon discovers that there is a meeting going on with some really evil organization that is also ultra-secret. This is why this woman was killed because if you join Spectre, then your wife dies if you do. What is also odd is the set-up of this place, with a few guys sitting at a table, and other guys just standing around. Was there a shortage of chairs?
Before I answer that, I'm going to say that there are spoilers ahead, so don't read any more if you don't want the ending.
There apparently is a shortage of chairs. Bond attempts to blend in, but the guy who is the head of the meeting somehow knows that Bond is there. As it turns out, this guy is Blofeld, played by the one and only Christoph Waltz. This actor is good at playing both hero and villain, and he is the classic James Bond villain who has been played by many actors in many films. Most of the time, Blofeld's face is not seen and he's stroking a long-haired white cat.
In this film, Blofeld is the head of Spectre, which used to be an acronym for something, but I had the subtitles turned on, and they never put it in all caps. Bond is able to track down Blofeld at his headquarters in Morocco, and apparently Spectre and that jerk I mentioned earlier, C, wants to replace Mi6 with drones is in league with him.
There is apparently some new agreement between nations that will begins some new surveillance society, and Blofeld is the unofficial head, I guess. Yeah, I'm not really sure, because Bond plotlines and character motivations are really hard to follow.
There is this one scene where Blofeld shows Bond his headquarters, which has at least one hundred people in front of computers doing I don't know what. When Blofeld turns off the screens at once, these workers just rise to their feet and stand in attention. I have no idea why, and I would have liked to hear more about them, honestly. Is the film trying to say that technology could trump humanity? Or is there any moral in this at best mediocre action film.
I've seen a lot of Bond films where the villain treats Bond as a guest in his own headquarters. It usually ends with Bond getting captured, and this happens here. It is revealed to the Bond babe of this film (I know that she has a name, but I don't remember it and made very little impact in the story) that Blofeld and Bond were raised as brothers.
Okay, this is where the film committed a huge error. If you have ever seen the Austin Powers series, then you know that it satires James Bond, and there is a Blofeld character named Dr. Evil. In the film Austin Powers: Goldmember, it is revealed that Austin Powers and Dr. Evil are brothers. I just can't believe that James Bond imitated the film series that parodied it.
Another reason that I will have to say this is not one of the better Bond films is that it is way too long. There is a scene where Blofeld's headquarters blows up, and Bond says: "it's not over yet". I had a hard time staying awake after the climax.
The ending is not very spectacular, and ends with Bond not killing the villain. As if they are promising a sequel, but this won't happen as it is pretty well-known that Daniel Craig doesn't really want to play James Bond again. I don't know if we will see Blofeld again, and at this point, there is probably going to be another rebuilding of James Bond that hopefully won't be another reboot.