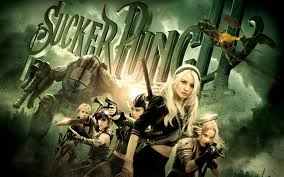 I have mentioned before on this blog why certain films don't do as well as they should with Speed Racer, and I just don't see why Sucker Punch didn't do so well. The film has pretty much everything most people go to movies for, like attractive females, explosions, action, giant samurai robots with machine guns, steampunk zombie soldiers, and…yeah, I can see why some people might not like this. This is one of those movies that isn't really speculative fiction per se, as all of the far-out elements don't really happen in a literal sense.
Yeah, that is confusing. I'll start by just telling you how it starts. A young lady whose name is simply Baby Doll has a mother that has died. She probably was killed by her stepfather, and he finds out that all her money was left to her daughters. Okay, maybe he didn't kill the mother, because he should have checked that last will and testament first. Anyway, the evil stepfather kills Baby Doll's sister, and Baby Doll is sent to an asylum, presumably for the crime. By the way, this opening scene is done without any dialogue, with a strange version of "Sweet Dreams are Made of These".
Then Baby Doll goes in for a lobotomy, and suddenly the film becomes something like Moulin Rouge. Without any explanation, Baby Doll becomes a new girl in a brothel, and Baby Doll must learn to dance to survive. When Baby Doll dances, she is instantly transported into strange worlds. The first world she goes into is an ancient Asian temple to learn that she can escape, but she needs four items. Actually, it's five, but the fifth is a deliberate mystery.
So then Baby Doll tells her new friends Sweet Pea, Rocket, Blondie, and Amber that she has an escape plan. They all agree to this plan, and each plan involves each girl to get one of these items. While the girl is getting the item, Baby Doll dances as a diversion. Baby Doll is then transported into some other world, and this is why I loved this film.
Yes, I want to see this film again when I have the chance. In this film, you see Baby Doll enter worlds where she faces off with giant samurai with machine guns. Then she goes into a world in World War I, with the enemy soldiers kept alive through steam and clockwork. Her friends fight along beside her, and they fight dragons and robots. All of these scenes have the director Zak Synder's style of slow-mo to fast motion to normal motion, which was made famous in 300.
I found these scenes absolutely breathtaking, but I think I have an idea why this film didn't succeed. First, the characters themselves aren't very deep, and they are about as shallow as their names. Second, I found that special effects action are only good if we know that characters, heroes and villains. Here, the action isn't even real, so it is completely optional for the viewer to care about what happens.
Still, the special effects scenes apparently affect the movie's real plot, which I won't spoil. I think this film has a deeper level that I didn't get the first time, and I have found this can alienate audiences. I'm going to recommend this film simply for its coolness factor alone.