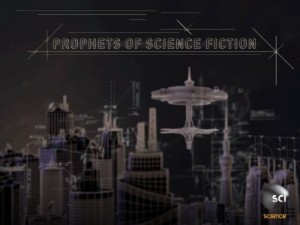 I realize that it is not Speculative Fiction Friday yet, but this week, I have devoted a lot of spare time watching all 8 episodes of the Science Channel's Prophets of Science Fiction.
Some of you might think it is a little bit arrogant to call speculative fiction authors prophets, and I will have to say there are aspects of this show that are a little bit self-congratulatory (especially when it came to George Lucas). However, the show taught me a lot about how smart some of these authors were.
For example, H.G. Wells, author of War of the Worlds once wrote a book called A World Set Free, where the world was devastated by atomic bombs. Of course, there are a lot of post-apocalyptic novels written now, but H.G. Wells wrote this in 1914, forty years before Hiroshima! In fact, the term "atomic bomb" comes from this work. Did H.G. Wells have a time machine of his own?
Jules Verne was another pathfinder. Not only did he predict the innovation of the submarine in 20,000 Leagues Under the Sea, but he predicted several things about the 1969 moon landing with From the Earth to the Moon, written in 1865. Verne knew where we would launch from (Florida), how big the capsule was, and that we would splashdown upon return. One of his last novels, Paris in the 20th Century made some pretty astounding predictions about the world of 1960.
I also didn't know that Arthur C. Clarke was instrumental in creating our modern era of telecommunications with his ideas of satellites and geocentric orbits. And you thought all he ever gave us was the HAL 9000 from 2001: A Space Odyssey.
One of the most interesting facts that I didn't know was on Philip K. Dick. I know that name might not be as well known as the first previously mentioned Victorian-era authors, but this man wrote the stories that would become films like Blade Runner, Total Recall, and (one of my oddly personal favorites) Minority Report. Apparently, Philip K. Dick was once greeted at his door by someone wearing a Christian symbol. He then saw a pink light coming from her necklace, and this led to a whole bunch of visions. I am not even certain what to think of that, for Dick was into drugs.
I cannot deny that this author and all of those on the show have created ideas in fantasy that eventually led to reality. It makes me wonder if perhaps all we need to do to create technological improvements is just imagine.
I get inspired when I see stuff like this. Back when I was in fourth grade, I became enamored with inventions, and I realized that the right creation can change the world. I never was able to build something like Thomas Alva Edison, but I never had any problem imagining it. I highly recommend turning up your imagination, and you can see a better world.