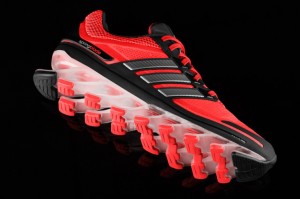 Adidas has recently created the Springblade, which is a shoe that has angled "blades" that put kinetic energy forward, so you will have a "more efficient stride".
Apparently, these blades instantaneously react to any environment, to compress and release energy for a push-off. I can't help but wonder if it will be awkward for first time users, but hey, I think it is just wish fulfillment to believe that a shoe can give us extra speed. I have heard that the construction is designed to "hug the top of a runner's foot, locking it in to harness the energy returned from the springs on the outsole".
Now, I don't know if these Springblades really can improve your speed, but if they did, wouldn't this change the whole Olympic games? I mean, the world records are all about hundreths of a second, and if someone uses these shoes to beat it, can they do it without the shoes?
Well, that's stuff to think about. Until then, you will be able to purchase the Adidas Springblades for about $180 on August 1st.