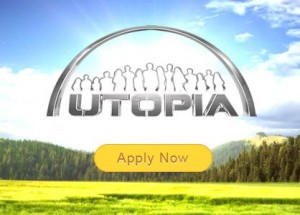 I'm not a big fan of reality shows, as you might tell from my review of Series 7: The Contenders. I just don't really see the appeal of them, and I actually can't stand watching confession cam after confession cam in a situation where people start acting like idiots. That seems to be what all reality shows boil down to: people doing stupid stuff.
Fox is currently casting a new reality show simply called Utopia, and it is about 15 strangers made to live in some out-of-the-way farm and build a society from the ground up. I don't know what will happen to this, but it has already been a hit in the Netherlands. Yeah, there are a lot of shows in America that were originally from other countries.
Now, here's the point: there's isn't one. Seriously, what is the point a reality show where the competitors start a new society? Is it to find out if we really can come back from a zombie apocalypse? Well, if you want to apply, head to the Utopia website.