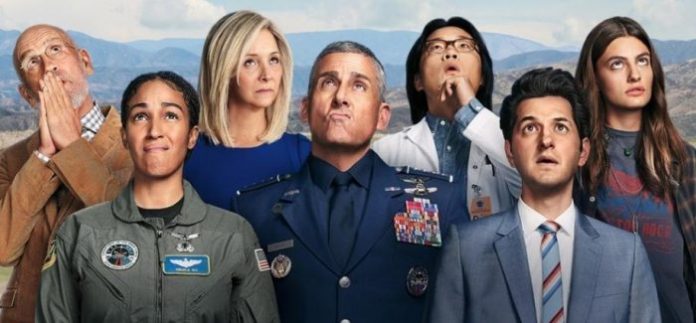 When I first heard that there was going to be a series known as Space Force, with Steve Carell, I thought it was a rumor that too many people were passing on social media. Especially since Mr. Trump had actually started a real Space Force, so is truth stranger than fiction, or is fiction stranger than truth?
Needless to say, Netflix now has a Space Force series, it not only does it have Steve Carell, he actually co-created it with Greg Daniels, who is best known for game-changing TV comedies such as The Office, Parks and Recreation, and I also will recommend Upload.
First of all, what is the point of Space Force?
While Upload has several themes that are really worth exploring. The thing that I can't stand about Space Force is that it seems to lack a theme, but it doesn't feel smart enough to be theme-less on purpose. Now, if you are familiar with Daniels' other shows, then you know that they have a certain legacy to them as far as what they say about American culture overall.
The Office shows how a group of people who do something as mundane as working at a paper company are capable of doing something great just by being themselves. As for Parks and Recreation, I remember watching it and thinking it was just a derivative of The Office, and it took a few seasons before it found its own feet. Although the set-up of an office is similar, Parks and Recreation is a more positive look at friendship and how good people can really change lives.
The best part about these two shows is that you get those themes, not to mention good vibes from just a handful of episodes. The greatest problem that Space Force has is that I can't tell what it is trying to do, so I can't help but feel that it is failing.
I mean is it trying to be The Office, but in space? Even with children's cartoons, taking a situation into space has never been a significant improvement. There is something about space which creates a definite science fiction groove, and that can be pretty off-putting to some viewers. Is it possible that the show is attempting to comment on the actual space program? If so, there is an episode known as "Mike and Mallory Go To Washington" which shows the two main characters standing up for the Space Force, and it sounds very positive. However, there are constant comments on the show about how expensive the space program is, with a mention of a rocket costing the price of several schools.
By the way, I'll bring this up now. The aforementioned episode where they went to Washington had an odd character named Anabela Ysidro-Campos, who is clearly AOC. Also, I remember when protesters dressed like characters on The Handmaid's Tale, but when I did a search for this, the most recent article I could find on it was in…2019? Yeah, that joke feels a little dated.
The idea of making a show about a fictional Space Force when there is a real one that is kind of a Trump administration joke has some potential. Then again, hasn't Trump already been the butt of several jokes? Again, its dated, even though we are still in the midst of the Trump administration.
The Show Feels Below Steve Carell
The fact that Carell stars in this show, and plays a boss, feels a lot like The Office. It feels like Carell is trying hard not to be Michael Scott, and it is only kind of working. The sad part is that Carell's character, a four-star General Mark Naird, seems to be even less competent than Michael Scott ever was.
I do like seeing him as a father figure, and Mark Naird seems to be dealing with a lot of PTSD that is being repressed. That alone is interesting, and there is also a somewhat interesting relationship that he has with his wife, who is in prison. By the way, what the heck is his wife doing in prison? Did we just forget to have that? Apparently they did, because I see
Yes, Carell has been in good comedies and dramas, as well as bad ones. He really shouldn't be tied to this one, as it looks like he has another Evan Almighty on his hands.
The show simply isn't funny
This show is also not very funny, and part of that is that the jokes are very predictable. There was that one episode with a chimp and a dog in space, and they only showed the monkey for some time. Why is that? Oh, the chimp ate the dog. Come on, I saw that joke coming from a mile away!
Oh, and then there was that episode where Mark wanted to start dating again. He then has a talk with his daughter about it in the morning. Oh no! His date, who has spent the night there, shows up in the kitchen. Oh, the hijinks!
Why is Space Force made for adults?
Hey, you know how a lot of shows have people swearing? Space Force has it too. Yeah, big deal, you can just watch a show on HBO, Amazon Prime, another Netflix show, or any other streaming network except Disney Plus.
Why in the world is that? It feels like adult content is just there for the sake of it being there. I mean, Ben Schwartz plays a character called "F**k Tony". Why? By the way, his character is just Jon-Ralphio from Parks and Recreation.
Space Force Season 2 Release Date
The most recent sources that I could find did not give any release date for season 2 of Space Force, or even if it has a release date. Of course, everything is on hold in Hollywood thanks to COVID-19, but I can't help feel that it will be a renewal when things get back to a semblance of normal.
There was definitely things that needed to happen at the end of Season 1. We saw Mark save his daughter from some ruffians, which led, very unrealistically, to his wife freeing herself from prison with a guard/lover. The American team on the moon was also in the process of some conflict with the Chinese moon team.
As you can tell, I don't believe this show needs another season, and it is interesting to note the recent SpaceX and NASA mission is probably the most realistic way to depict what is happening in space technology.