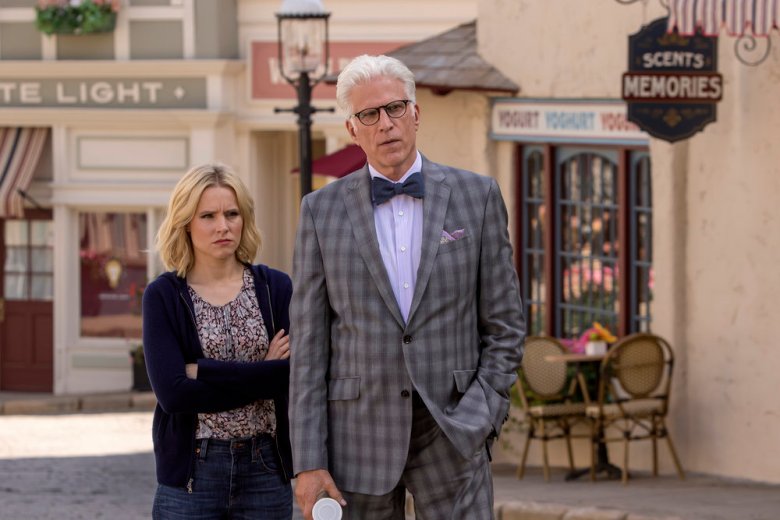 It is difficult to be a new fall TV show on the networks, as your lifespan is not going to be long, statistically speaking. Television has changed a lot in the past decade, and how we view it online has affected how shows are marketed and distributed. Most shows rely on being a hit from the get-go, such as last season's incredibly popular This is Us. However, some shows, like the mediocre The Good Place, somehow receive another season, and this is what is known about The Good Place Season 2 with its release date and why it even has one.
If you aren't familiar with The Good Place, it is a TV comedy series from creator Michael Schur, who also had his hand on such modern-day hit comedy shows like Parks and Recreation and The Office. The show stars Kristen Bell as Eleanor Shellstrop, who ends up being in the highest heaven, even though she has spent her life in constant selfishness. As it turns out, her presence in the blissful afterlife is some kind of celestial clerical error, and the first season was Eleanor facing the truth in this "liar revealed" plot. You can read my review of the pilot on another site here.
I started watching The Good Place last season, and I just lost interest after the tenth or eleventh episode. As I said before, TV watching has changed, and if you just forget to TiVo it or stream it online, you just really forget about it. I didn't really hear about the show at all last spring, and just assumed that it had been cancelled. When I saw the first season on Netflix, I decided to catch the last few episodes, including the finale, which I assumed was the series finale.
The Good Place Season 1 Finale Recap
I did not get the closure that I was looking for in the Season 1 finale. The show had progressed a lot in 13 episodes, as Eleanor had confessed her secret to Michael (Ted Danson), the head architect of the heavenly realm. This led to the powers that be discovering that the real Eleanor was in the bad place, and an exchange was planned. However, Eleanor fought to prevent her damnation, even fleeing to "the medium place", but eventually accepting her fate and returning to the good place to make things right.
As it so happens, Eleanor's presence in the good place has affected a lot of her friends. Chidi (William Jackson Harper), the soulmate that was given to her upon her arrival, has participated in Eleanor's subterfuge, making him somewhat guilty as well. It is later revealed that Jason Mendoza (Manny Jacinto) is also in the good place by mistake, and his soulmate Tahani (Jameela Jamil) has been "covering" for him as well.
The episode before the finale ended with all of the main characters, including the real Eleanor, needing to decide who will go to the bad place. Since there were two mistakes, justice only demanded that two of them will be sacrificed. The finale then played a twist that I honestly believed ruined the show, and there are some spoilers ahead after the jump.
As it turns out, Michael is not an angelic architect of the good place, but he designed a bad place specifically made for Eleanor, Chidi, Tahani, and Jason. It is a place where they can all bicker with each other, and Eleanor realizes that she is in the bad place and this is all part of the torture. As it turns out, even Chidi and Tahani, who seem very good, have bad traits that have doomed them to the bad place.
Michael decides that the best way to deal with the situation is to start over wiping all the main characters' minds. Eleanor is determined to beat the system, and she then leaves a note with Janet (D'Arcy Carden), a complex "Siri" of heaven in human form. The note tells Eleanor to find Chidi, but that is all. Eleanor has a new soulmate, and it is left open if she will find Chidi and presumably restore her memories.
I have to say that I thought the finale for Season 1 had a twist that seemed to come out of nowhere, but Micheal Schur has revealed that it was part of plan all along. I guess I am willing to believe that, but what I find hard to believe is that the finale has a 9.6 rating on imdb. I don't even see how that happened, as the top 250 best movies reviewed on imdb have a score no higher than 9.2. Are you telling me that the Season Finale of The Good Place was appreciated more than Shawshank Redemption?
Clearly, these numbers for critiques can be fudged somehow, like The Orville pilot that I reviewed last week.
What will happen in The Good Place Season 2?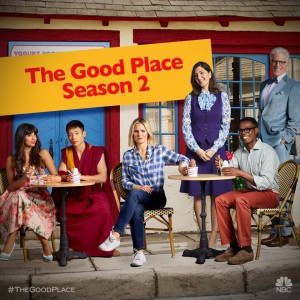 According to TV Line, The Good Place was renewed for a second season, and it will have a special one-hour long episode that will air on Wednesday, September 20th at 10/9 on NBC.
Beyond that, there isn't much revealed as far as what will happen. Creator Michael Schur stated in an interview with the New York Post that Season 2 will be about Eleanor finding out that she is in hell and needing to escape.
This means that she will find Chidi, and somehow that will restore their memories because…yeah, I don't know how, and I'm sure that the writers will pull something out of their brains. The issue is I'm not certain if the creator of the show has a planned to end this.
I felt that The Good Place has a lot of potential with its plot of being marooned in paradise, and I liked its odd view of heaven. Movies and TV always like to depict heaven and hell because even the Bible does not discuss what day-to-day life will be in whatever eternity. I do not even care how biblical it is, because I believe that the point of the show is exploring the nature of good and evil and combating selfishness.
It is possible that perhaps the show will make this work, in spite of what I feel is a near-fatal move at the end of the first season. If not, then it should quietly wrap up by the end of this season, but I honestly don't see a satisfying ending to this show.