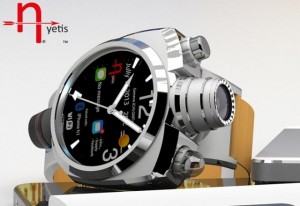 I have said before that we are probably headed into an age of the smartwatch, and this Hyetis Crossbow watch could be one of the most gourmet smartwatches that I have ever seen.
The Hyetis Crossbow watch has a 41-Megapixel camera, which is an incredible resolute (as in, high in resolution) camera. This particular watch allows for connecting anything of Wi-Fi, Bluetooth, and NFC wireless technology. If you have the Crossbow, you can check your messages, weather, and email on the timeface, somehow. It also has an inductive charging pod, which I am assuming means that there is some wireless charging going on here.
In case you are wondering, this does cost, a lot. It should cost about $1,200, and there are no pre-orders being taken as yet.